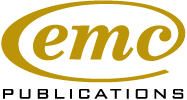 EMC Publications has been publishing business magazines and digital media for the liquor, cannabis, and hotel industries for 23 years and has a solid reputation for providing high-quality editorial, which results in well-read media that generate excellent results for our advertisers.
Target owners and managers of cannabis stores, liquor stores and pubs, or hotels with highly respected industry media.
Cannabis Retail: Cannabis Retailer magazine and site reach every licenced cannabis store in Canada. Canadian Cannabis News is a subscription-based newsletter reporting news and industry trends.
Liquor Retail: The Quarterly Pour is a trade publication that targets private liquor stores, pubs and bars in BC. ABLE BC's Liquor Industry Update is a newsletter highlighting current industry news.
Hotels: InnFocus magazine reaches all hotels and resorts across BC. The BC Hotel Association's Industry Update is a newsletter reviewing hotel industry programs and services.
EMC's B2B media focus on leading edge editorial that grab readers' attention and give advertisers strong results and ROI on their campaigns.
Contact us to discuss how we can help you grow your business.