Be Social: 7 Best Practices to Make the Most of Social Media
By: Joe Pooley
Social Media is ubiquitous in our daily lives and, for better or worse, it has become an essential part of the digital marketing strategy for businesses big and small.
How effective is social media for marketing a hotel? It depends entirely on how you approach it. Whether you're starting from square one, or looking to refine an existing social strategy, here are some best practices for maximizing value from these channels.
1. Have a Presence
Let's start with the bare minimum. Not every hotel is going to have the time, resources, or desire to be active on social media. But if nothing else, you need to have basic profiles established on the major social channels: Facebook, Instagram, and Twitter. Also consider LinkedIn, YouTube, and Pinterest.
Include links to these channels from your website (a set of clickable social media icons in the header or footer section is the preferred approach). Populate your profiles with basic information, your logo, and some photos. Even if you are inactive on these channels, having the profiles set up will offer legitimacy to your business, enhance your visibility on search engines, and open additional avenues for guests to engage with your hotel.
2. Be Active
As the old saying goes, 80% of success is showing up. Before considering any kind of strategic approach to social media, establish a method for regularly posting content. The worst thing you can be on social media, apart from not present at all, is to be stagnant. You need to generate momentum.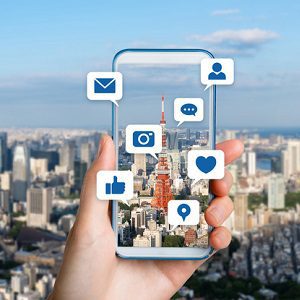 The more often you post, the better. But at a minimum, aim to post on Facebook, Instagram, and Twitter once a week. Photos of your property, links to interesting articles, shared posts from other users, alerts about upcoming events—all of this is fair game as long as it fits your company's values.
Aim for variety with the type of posts you make. And remember: every post does not have to be significant. It can be as simple as a photo, some evocative text, and a few creative hashtags.
3. Tell Stories
The best marketing is the best storytelling, especially when it comes to hotels. For a potential guest, their experience at your hotel is literally a story—one they will spin in their head both before they arrive and after they return home. Think of the content you share on social media as material to help them form the backdrop of this story.
"The best marketing is the best storytelling."
One of the best ways to do this is to tell the stories of your guests. Share their photos and a description of what made their visit special. You can reach out after the fact to get permission to share their content on your social channels or take the opportunity to coordinate with them while they are onsite. The screenshot offers a great example from Long Beach Lodge Resort's Instagram.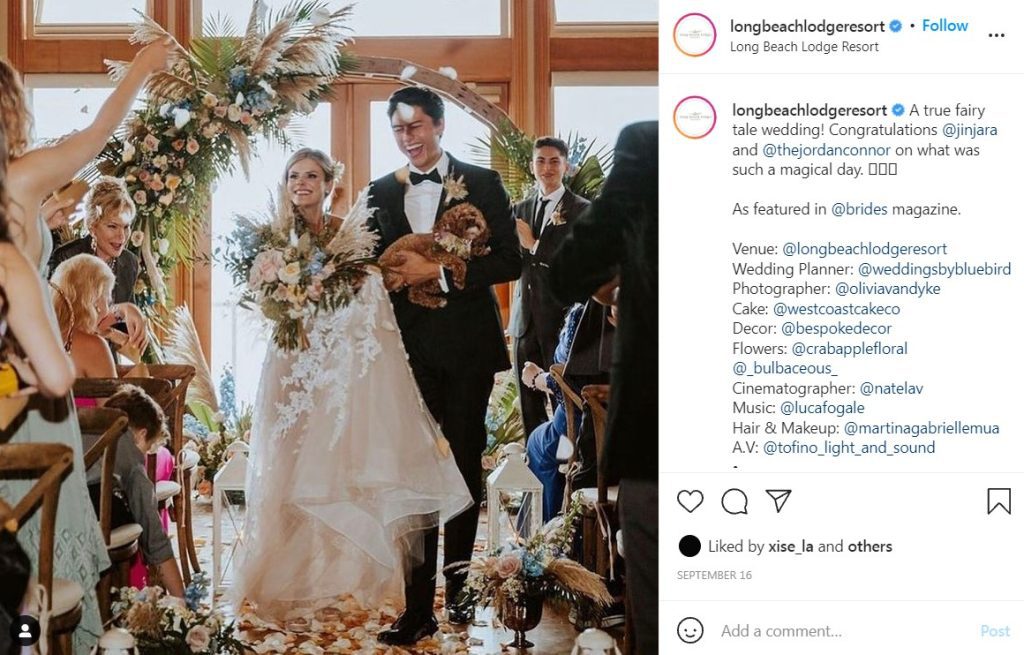 4. Know the Difference Between Paid and Organic
Using social media doesn't cost anything—this is the 'organic' side. Advertising on social media does—this is the 'paid' side. These two arenas are often not connected at all, with hotels using their social media profiles to post content and engage with followers and using advertisements to drive traffic to their websites.
Advertising on social media—where Facebook leads the way—is similar to other forms of online PPC (pay-per-click) advertising but has the additional benefit of very detailed targeting of specific segments of users. Social media ads should be considered an important part of any digital advertising strategy for your hotel, but it's not essential. Whether you choose to advertise or not, your organic social media strategy should remain the same.
5. Engage With Your Guests
An important aspect of your social media strategy concerns reputation management. Social media channels are not review platforms, but they nonetheless offer potential guests clues as to what people think of your property and how you treat your guests.
"An important aspect of your social media strategy concerns reputation management."
Similar to establishing a consistent process for posting new content, you need to have a process in place for responding to guests' comments, tags, and other forms of social media engagement with your property. Not only will this help show the personality of your property and help guests feel 'heard', but it will also convey an image of your property as a hotel that cares enough to listen to and respond to guests wherever they happen to be.
6. Showcase Your Staff
This is the hospitality business: it's all about people. So, take some time to use your social channels to profile your staff and tell some of their stories. Maybe there's an example of a team member going above and beyond for a guest; maybe you'd like to draw attention to a milestone or achievement; or maybe you'd simply like to make one of your staff feel special.
All of this serves to help humanize your hotel, foster trust with your audience, and give guests a sense of who they will be interacting with at the property.
7. Show Support for Your Community
Your guests come from around the world, but the ones who follow you on social media are often from more nearby regions. This is a good thing: it's productive to cultivate an audience of potential guests who are close enough to take advantage of offers and incentives you might highlight on your platforms.
A great way to drive engagement from guests in your region is to highlight and support what's happening nearby. This could mean bringing awareness to local causes and charity events, showcasing and tagging other local businesses (who may reciprocate), and demonstrating your participation in community initiatives.
These seven best practices might be summarized by the following directives: be consistent, be human, and be creative. Over time, a strong social media presence that follows this approach will result in more interest in your property, more goodwill with guests and, ultimately, better bottom-line results from your digital marketing.
Joe Pooley is Senior Digital Marketing Advisor at Digital Hospitality, where he helps hoteliers creatively market their properties online. Read more of his work at www.digitalhospitality.com.