Beer Notes Winter 2021
By: Dave Smith
Is the BC Craft Brewing Industry Oversaturated?
In the Fall 2021 issue, we discussed how to spruce up your tap list with interesting beers. Well, perhaps you've noticed there's a lot of choice out there. That's because, with an opening rate exceeding 20 per year for most of the past decade, BC is now home to over 220 independent breweries. That begs the question: is the BC craft brewing subcategory oversaturated?
On the surface, overcrowding seems like a very recent concern, given that this province's craft beer explosion didn't truly ignite until about eight years ago. In fact, this sort of discussion has been around for decades.
Looking at the past helps us put things in perspective and understand what might transpire in the future. So, let's talk about the mid-to-late 1990s. It may surprise you to know that back then, Canadian publications featured stories on microbrewery growth and saturation—and with good reason. Here in BC, after a half decade of growth, a reversal occurred, and in 1999 we saw more breweries close than open.
After that, the 2000s were stagnant in terms of new industry entrants. But a late decade groundswell of grassroots consumer interest in craft beer and homebrewing ultimately provided the impetus for a Vancouver and province-wide boom the next decade. The final spark came in February 2013, when BC microbrewing got what it needed: the 'lounge endorsement' that turned breweries into ultra-hip hangouts for a new generation of drinkers.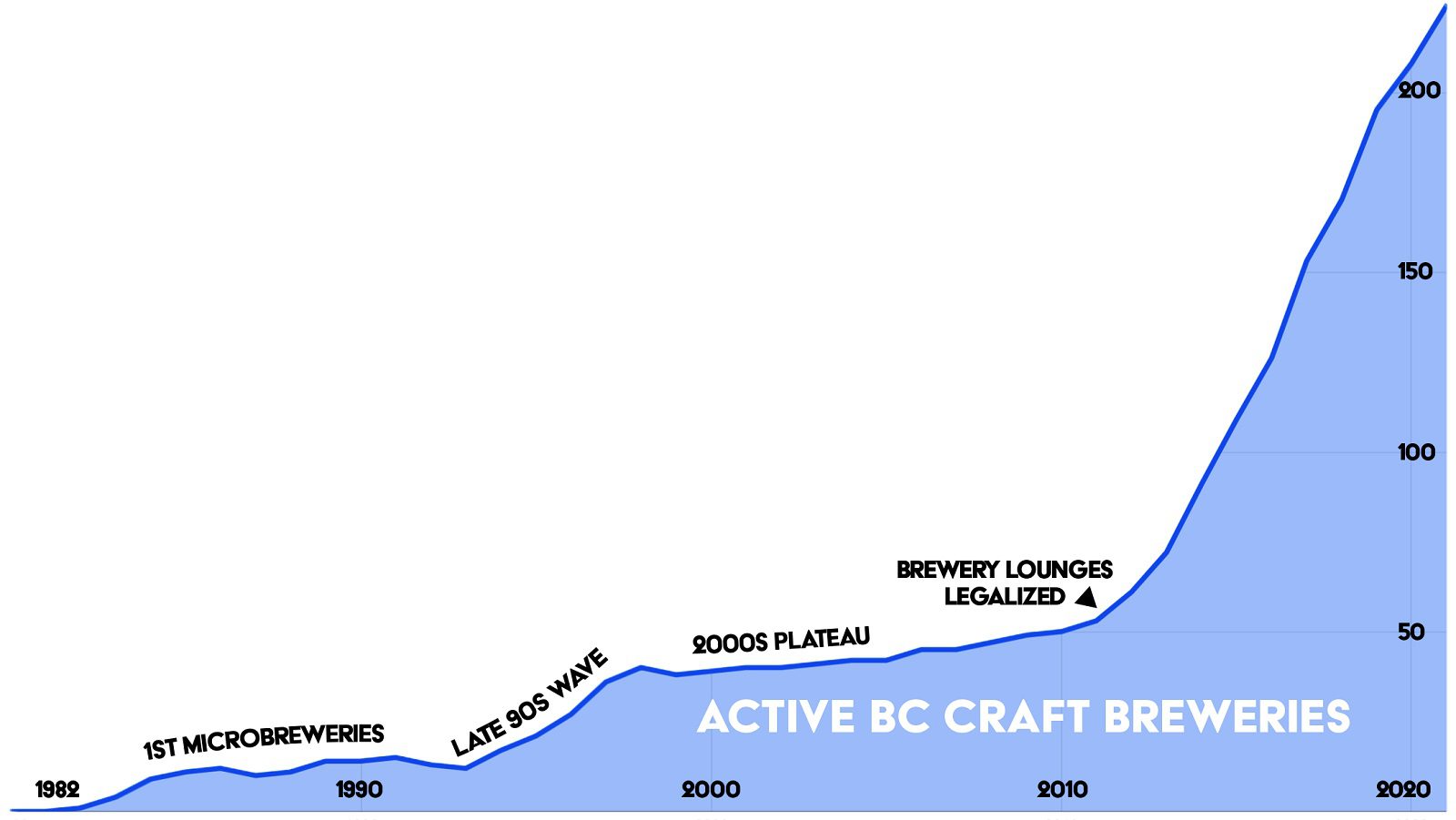 It's a great story, but there's a sober side to it. Following the saturation question, one might wonder, "At what point will all these small breweries take sales from each other versus from big breweries?" The answer is: that started years ago.
Management at Townsite Brewing, one of eight BC breweries that opened in 2012, has often remarked how grateful they are to have made it under the wire before the floodgates opened with all of their lovely BC brewery colleagues. Without that head start they may not have gained valuable shelf space at BC liquor retailers. There's no doubt that being late to the party has made that same objective much tougher for the recent wave of entrants.
What's Brewing BC contributor Adam Chatburn has written and lectured about the business of beer. In 2018, he noted that "Competition for draft taps [and] limited shelf space in liquor stores means that new or smaller breweries can struggle to compete, no matter how good their product. The unrestrained growth in BC craft beer… we have been experiencing is ultimately unsustainable."
To cap off a decade when the number of BC breweries quadrupled from 50 to 200, COVID-19 struck in 2020. The scene was set for another 1999-style regression. We held our breath.
Craft Brewing Comes of Age
It seems you can't underestimate the determination and resourcefulness of independent business owners. When industry pundits were predicting a mass culling of up to a third of all hospitality businesses, craft breweries weathered the storm—and even prospered—by pivoting from lounge service to packaged off-sales. Against all odds, despite a record eight closures, there were 21 openings in 2020, for a net growth of thirteen BC breweries.
As of this writing, thirteen more have already opened in 2021. This author projects that it will be the first year since 2013 with less than 20 debuts. But so far, no breweries have closed, which is more important. The signs are there that the market is adjusting itself toward a less heated level of expansion. New as it seems, the craft beer business is becoming a known commodity and a more mature subcategory.
The beer consumer has changed quite a bit since the 1980s and 90s, and BC has led the country in craft beer adoption, growing to 30% of the beer category a few years ago. Those drinkers are never going back to big beer, and their dollars will sustain a pool of small breweries. What will change is simply which breweries those will be. For almost every brewhouse that fails, there will be a buyer.
Fortunately, as a pub landlord or retail operator, you get the benefit of high competition and endless options. You're spoilt for choice, and it will be that way from here on out.
Dave Smith is Editor of What's Brewing, the Journal of BC's Craft Beer Movement (www.whatsbrewing.ca).