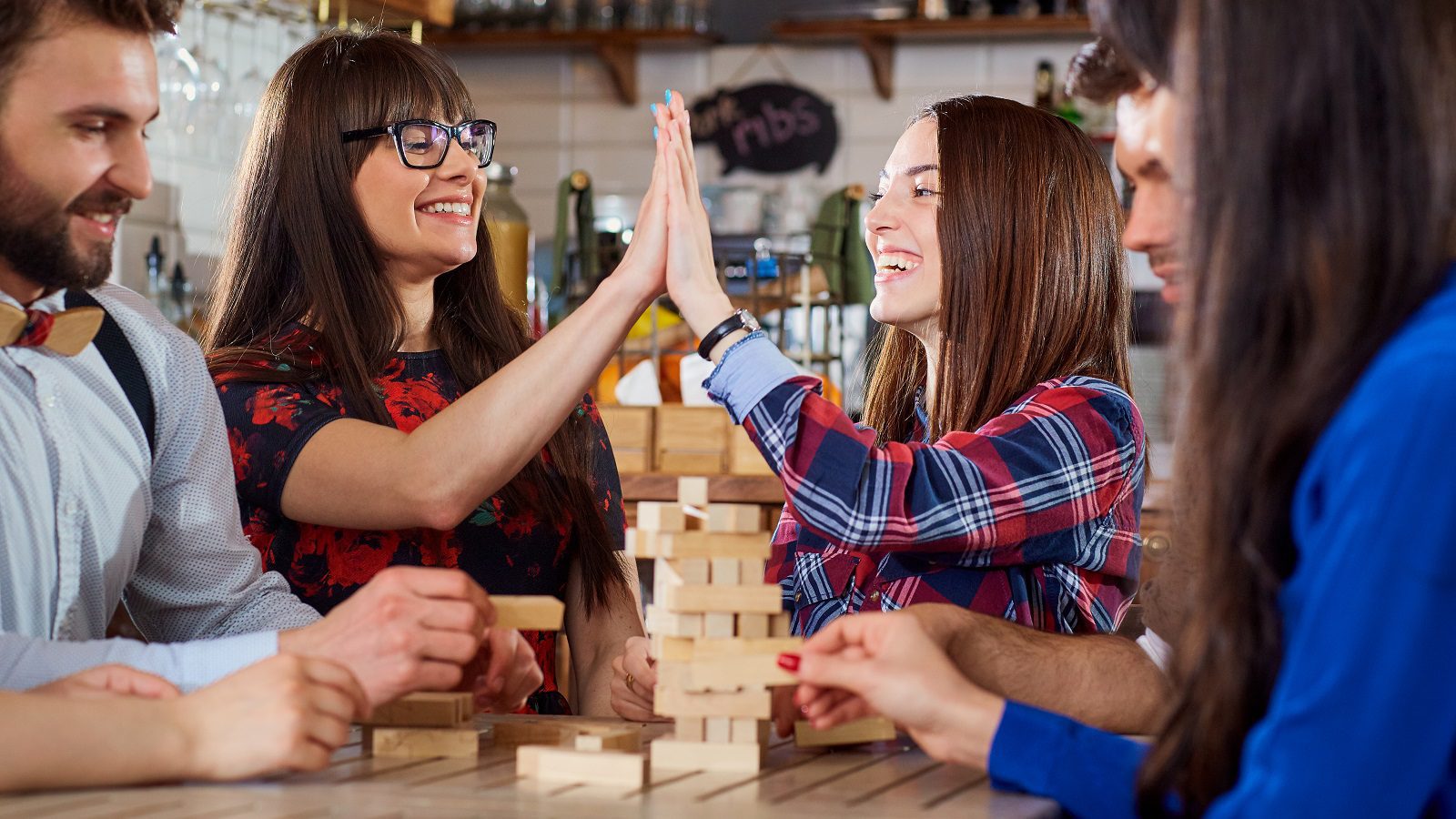 Bringing Back Fun and Entertainment
By: Amy Watkins
It's all fun and games until a pandemic public order stops bars and restaurants from providing live entertainment and puts a ban on dancefloors. The good news is that Phase 3 of the BC Restart Plan and the introduction of vaccination passports have in most regions removed group limits for indoor and outdoor dining, venues can once again determine their own table limits, and liquor service hours have returned to normal. But the remaining challenges include no socializing between tables and no dancing, making it harder to create a fun, party atmosphere. So, how are pubs and licensed venues bringing back entertainment that's compliant and still entertaining?
Playing the Political (Board) Game
Table-based games such as trivia were fairly simple to reintroduce, but COVID created challenges for offerings like board games and card games that have high touch points. Langley's The Raving Gamer Bistro revolves around a fun atmosphere where people can enjoy good food and drinks and play games together, so COVID brought a new raft of challenges. When reintroducing games to the bistro, guests were informed that each game was being cleaned and then held for 24-48 hours before being played again.
"We've slimmed down our available games in order to have games available that are easily cleaned. We have laminated as many cards as possible to make this easy for our staff to handle," says Chef and Owner Ken Nishidate. "We had to offer a lot of two player games as peoples' bubbles shrunk. This is difficult as we have a limited number of games that are for two players. We have always been a place for large parties, so having to turn away parties greater than six has been hard for business. As well, if people book multiple tables, it is hard for people to comply with the "no mingling" between tables rules."
While it's brought these challenges, COVID has also brought opportunities. For instance, The Raving Gamer pivoted to doing a pop-up pizza restaurant at various locations around Langley when indoor dining was closed.
Singing for your Supper
Touchable games were not the only type of entertainment to suffer. Karaoke became one of the casualties when it was banned under earlier public orders, due to a worry that overly enthusiastic singers would spray droplets while warbling. Tora Tiki in Victoria opened this summer with a private karaoke option at a time when restrictions were rapidly changing. "We were incredibly fortunate to have opened at the same time restrictions were being lifted," says Owner Jason Pincombe. "That gave us the opportunity to operate as our model intended (with a few small hitches). We are able to operate our karaoke room as per the PHO mandate with certain provisions (most would be in place regardless of those caveats)."
"Tora Tiki opened this summer with a private karaoke option."
The bookable private karaoke room is cleaned and sanitized after each group, the microphones are sanitized, and different microphone covers are used for each group to ensure safety can coexist with fun. Performers' must also remain seated during their songs. "While we still have to navigate a very fluid set of rules that could change on a dime, we take pride in providing our guests with the safest experience while trying not to take all the fun out of it," says Pincombe. "We are also currently scanning each guest's vaccine passport to provide even more reassurance that while you visit, drink, eat, and maybe even sing a song if you have booked our private karaoke room, we take this pandemic seriously and are more than happy to be part of the solution. Then we can get to the other side of this thing where we can all stand up and dance with friends while belting out our favourite songs again."
Live Music Back from the Dead
It's not just amateur performers who can now take the (sanitized) mic. Comedy nights are returning—with the audience seated of course—and live music is back in pubs such as Dublin Crossing in Surrey, bringing back a key component of the Irish pub experience. "We've had one solo performer playing, but recently we got back the full band and it's great," says GM Erin Knudsen. "People are really excited, but our biggest challenge is that we are still not allowed to have a dancefloor. It's tough now to manage and police everybody and make sure they stay seated within the guidelines. They want to get up and enjoy the music and for us it's important to keep live music going and keep our reputation for having a fun atmosphere and live music."
COVID shutdowns afforded the team time to finish renos and take a look at wider policies to get ready for reopening, but Knudsen's wish for the future is that the dancefloor comes back and that masks are no longer needed. "We're so used to mouthing things at customers when the loud band is playing that now you lose your voice trying to shout over them," she says. "But the late-night vibe is what people come for on Friday and Saturday nights and we're trying to stay on track for more fun late nights."
With Phase 3 of the BC Restart Plan in action and vaccine passports in place, pubs are looking forward to bringing back the interactive forms of entertainment that keep customers returning. With live music back, alongside boardgames, bowling, billiards, and darts, the final frontier has become the dancefloor with publicans willing to dance to the tune of the public orders to ensure that fun is firmly back on the menu.