Category Analysis: Vape Cartridges
By: Cannabis Retailer & Headset
Since Cannabis 2.0 products hit the market in 2020, vape products have shot to the head of the pack as a consumer favourite. Across Ontario, Alberta, British Columbia, and Saskatchewan, $114.7 million worth of vape products were sold in the third quarter of 2021. So far this year, vape products have climbed into third place when it comes to market share, accounting for 16% of total sales in June after peaking in February at 16.5%. Of course, flower and pre-rolls continue to dominate, but vape products still account for almost four times as much as edibles (4.3%) and just under three times as much as the "other" category (6.7%).
Products
In Q3 2021, 720 unique SKUs of vape products were sold across Alberta, Ontario, BC, and Saskatchewan. When it comes to the most popular products, or at least the ones with the highest sales, there doesn't seem to be a clear preference for indica, sativa, or hybrid strains, however, only one indica shows up in the top five bestsellers, albeit in second place. While a mint flavoured strain takes first place for top sales, the remaining four in the top five all have strain names that insinuate a fruity flavour. Out of total Q3 2021 sales, the top ten best-selling vape products made up 20%, or nearly $23.4 million.
While the majority of best-sellers are sold in the 1-gram format, data shows that 0.5-gram cartridges make up the majority (50.6%) of sales, while 1-gram cartridges only account for 27.2% and 0.45-gram cartridges make up 12.9%. Customers overwhelmingly prefer buying cartridges and a reusable battery as opposed to disposable all-in-one kits. Data shows that 92.2% of sales are made up by cartridges, while disposable all-in-one kits account for only 5.8% and rechargeable all-in-one kits make up 2%. All-in-one kits are still relevant in the Canadian market since they are the perfect product for those new-to-cannabis consumers or tourists visiting a legal market, however, sales are trending downward.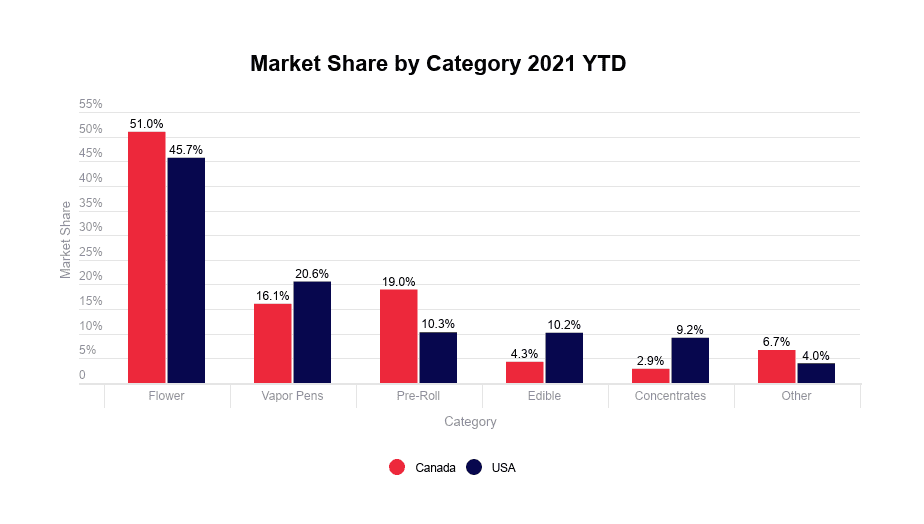 Prices
Contrary to the US, where the price of vape products has held fairly steady since their introduction, the price of vape cartridges in Canada has dropped by 23% since April 2020, when it was $51.88, compared to now, when the average price is $39.78. Disposable all-in-one products dropped even more, falling 43% since April 2020, from $46.35 to $26.77.
This price makes vapour products an accessible entry point to those new to cannabis, or even just new to the format. Unfortunately for retailers, however, dropping prices may cut into their bottom line. Will vape products' burgeoning popularity be enough to make them worthwhile?
Demographics
Because of their newness, vape products have become a decidedly 'new school' product, which Headset's demographic data backs up. When asked if they had $100 to spend on cannabis how much they would spend on vape products, Gen Z was the most interested, reporting that just over 27% of their wallet spend would go towards vapes, with Millennial (22.6%) and Gen X (21.6%) women coming in second and third place.
In all categories, women committed a larger wallet share than men, but the percentage decreased the older customers got, with Male Baby Boomers rounding out the bottom with 15%. Due to vape products' discreet formats—fits in the palm of their hand and doesn't have the traditional cannabis smell—it makes sense that women, particularly mothers or women with public-facing jobs, would gravitate to a more low-key way to consume cannabis.
As vape products become more entrenched in the market, it stands to reason that their popularity will continue to increase, especially as the stigma around cannabis consumption decreases and we see more women and young people giving vape products and concentrates a try.