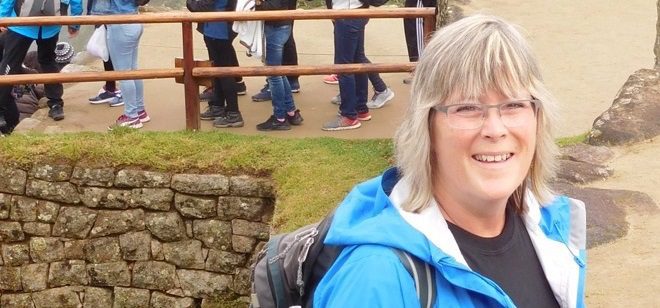 Featured Hotelier Carol-Ann Terreberry, Crescent Hotels & Resorts
By: Jacquie Maynard
Like many young people, Carol-Ann Terreberry started in hospitality as a server, but it was her time in fine dining that got her hooked. Even though she became an accountant, she says that the hotel industry is a part of her personal fabric; so after working for accounting firms in Alberta and on Vancouver Island, it was a natural fit that Terreberry ended up back in the business, this time in a new role.
Accountant to General Manager
What started as a part-time accounting position turned into a 15-year stint as controller and then General Manager at Cape Mudge Resort on Quadra Island.
"They asked me if I would take over management and I said, 'What do I know about managing a hotel?!' They said that I pretty much already was," she laughs. "It's one of those things where you're not really confident in your abilities at first, but after asking family and friends, everyone said go for it! So, I went for it!"
Over the next 15 years, Terreberry brought occupancy rates up from 30% to 77% and assisted in the resort's expansion project, a new oceanfront RV park, and various other community initiatives.
Tsa-kwa-luten Lodge
Being on First Nations' land, Cape Mudge Resort did its best to contribute to the community and empower its namesake Band. Using the government funding set aside for residential school survivors, the elected chief of the Cape Mudge Band negotiated to use the building for that purpose. For 10 years the resort became a healing centre for residential school survivors in the winter, so not only could the business support healing in the Indigenous community, but it allowed core staff to stay on year-round since the resort was responsible for meals and accommodations during the programming.
"I understood the importance of a team that felt valued."
Terreberry applauds the leadership of the Cape Mudge Band, saying that their progressive philosophy fostered diverse forms of employment and worked hard to encourage their people to be the best they could be by showing them the opportunities available. A little faith and trust go a long way in encouraging good employees. "At a young age, I understood the importance of a team that felt valued. If you make them a part of decisions and give them insight, you get the buy-in," she says.
This tactic must have worked, because the average length of service for staff, around 70% of which are Indigenous, was seven years, and employees who shone in their roles were often promoted.
Tourism Association of Vancouver Island
Terreberry has also been heavily involved with the Tourism Association of Vancouver Island since 2003. "For the first year I sat quietly in the back and listened, but as soon as they found out I was an accountant I became Treasurer," she laughs.
In her 17 years on the board, she learned a lot through her roles, spending time as Treasurer, five years as the Chair, and Past-Chair for the remainder of her time, leaving this year.
Eventually, she joined Crescent Hotels and Resorts, as Director of Finance for Harbour Towers in Victoria, a hotel with over 200 rooms, before the owners decided to convert it into apartment buildings. Now, she performs more of a regional role for the company, with 10 hotels in her portfolio.
Terreberry says that everything she has learned in her previous roles has prepared her for what she does now, allowing her to train finance staff to have a well-rounded view of the industry.
"My favourite part is helping the finance team be the best they can be. Giving them the confidence to execute their roles, to grow, and focus on the ROI for the owner, because that's who we are all working for. Without the owner's success, the hospitality industry is a failure, so we need to do our job for our owners and keep things operating as efficiently and profitable as possible."