Featured Pub: The Heid Out Restaurant and Brewhouse
By: Jacquie Maynard
Heidi Romich and her family have been a part of the Cranbrook restaurant scene in some form or another since 1999 when she opened Heidi's Restaurant. What started as a 12-table European international fine dining restaurant has blossomed into The Heid Out Restaurant and Brewhouse and Fisher Peak Brewing Company, a local haunt and pillar of the community.
A Long, Storied Journey
Romich has been everywhere—Austria, Borneo, Argentina—learning and teaching about tourism, hospitality, and culinary arts. When she settled back in her hometown, she brought her experience and knowledge with her, opening Heidi's Restaurant.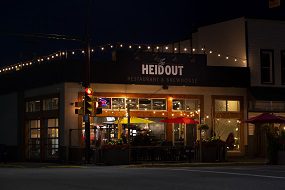 In 2005, Romich and her then-husband decided to expand. The new space had four separate dining rooms and was decorated in a cozy, European style with a carved wooden bar and accents.
Unfortunately, during the height of the renovation Romich's husband was diagnosed with pancreatic cancer and passed away shortly after, leaving her with not only a broken heart but also a newly-renovated restaurant with double the occupancy to run.
Trying to pick up the slack, Romich moved from the front-of-house to the kitchen—resulting in back surgery in 2009. Fed up, sore, and not fully healed from surgery, she attempted to sell the business. "At the time there were lots of restaurants for sale and no one wanted to buy them," Romich laughs. "Fortunately!"
Award-Winning Restaurant and Brewery
In 2013, Romich and her team decided to give the business a facelift. After stripping everything back they ended up with 9,200 square feet over two floors, with exposed beams, two fireplaces, and three garage doors to let in some light. The new space could hold 160 in the main dining room and 40 in a private banquet room. The Heid Out Restaurant and Brewhouse and Fisher Peak Brewing Company officially opened that year. After a challenging opening partnership, Romich's partner bought into the business, jumping into the brewing side with both feet. They were able to collaborate with a well-known brewmaster who showed them the ropes, and now Fisher Peak Brewing Company has won Gold in Canada, Gold in BC, and Silver in Canada for its Hellroaring Scottish Ale.
"Everything is handcrafted and we use the best local ingredients. The kitchen is the same," says Romich. "Everything is made from scratch and we have a separate Celiac kitchen, so we can accommodate most dietary restrictions." Romich's catering company has even catered fully Celiac weddings and been featured on the Food Network.
The Heid Out's Executive Chef, along with the Executive Sous Chef and other kitchen staff, come up with delicious, unique recipes that incorporate interesting local ingredients and their house beer. "We laugh a lot, and have a lot of fun together," she says. "When we get together it's like, 'How are we going to entertain ourselves today?'"
Creating A Community
Speaking of staff, Romich is proud that so many of hers choose to stick around. She says they've all become a family and gotten through the trials and tribulations of the last 22 years together. Even seasonal hires come back year after year. She says leaving people with a positive experience in the industry is her biggest compliment and reward. She even catered the wedding of a young man who had been a dishwasher for her at 14 years old. According to his parents, he was adamant about Romich catering the wedding because he'd had such a good experience working for her.
"Having been in hospitality and tourism a long time, it drives me crazy to hear horror stories," she says. "It makes it hard for the industry. It's a dynamic, exciting job with lots of transferrable skills, but managers who don't care about their staff are pushing people away."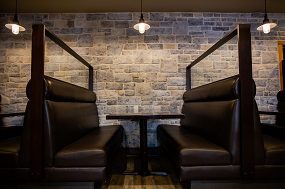 It's not only her staff that become family—the love spreads into the community as well. The Heid Out and associated brewery are strong community supporters, donating time, money, and food to those in need. After teaching culinary arts at the local college for the last 17 years and welcoming apprentices with open arms, along with everything the business contributes to Cranbrook, the community decided to give back to Romich and awarded her Citizen of the Year in 2019. "It was such an incredible honour," she says.
For the past 22 years, Romich has been a fixture of downtown Cranbrook, and everything she and her team do—from letting the town name the new business, to immortalizing "The Elephant Incident" in their Elephant Run IPA—is to benefit the community that has done so much for them.