Featured Retailer – Living Skies
By: Danielle Leroux
Cierra Sieben-Chubak is one of Canada's youngest cannabis entrepreneurs and the owner of Living Skies Cannabis stores in Saskatoon, Saskatchewan. Since opening her first store in 2018 at the age of 23, the business has rapidly expanded to four locations and is thriving. Here's how it all began.
Sieben-Chubak says the inspiration to open a cannabis store began before legalization. She graduated from Edwards School of Business in 2018. In her last semester of school, she created a business plan for a medical cannabis dispensary. Sieben-Chubak was diagnosed with Rheumatoid Arthritis in 2016 and had used cannabis medically to manage symptoms. She wanted to help others do the same.
Fast forward to September 2018, and the Saskatchewan Liquor and Gaming Authority (SLGA) released the retail cannabis store application process. In her last semester of university, Sieben-Chubak submitted her application. She says, "I only applied to Saskatoon, and I was one of seven people who was randomly selected to open up a cannabis store. Days before my convocation in June, I found out I was going to open up a cannabis store. It was wild but I also did not have a plan B. It was only plan A, and this was the way."
Sieben-Chubak prides herself on being the first locally-owned and operated licensed cannabis retailer in Saskatoon. She defines a local owner as someone who is from and lives in Saskatoon.
The name Living Skies is inspired by the words on the Saskatchewan license plate and is one of her favourite things about the province. Community is at the heart of what Sieben-Chubak does. She says, "From the beginning, we've tried to know the community really well and offer things they would be into. We provide customers with the best possible price and as many options as we can." She wants to make cannabis accessible to people of all incomes.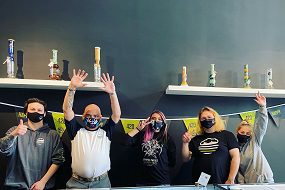 Sieben-Chubak has also focused on developing her team. "I have worked really hard with the staff to ensure they're giving the best experience to customers," she explains. "We've had awesome staff that joined us in the beginning. Most of the people that started with us have stayed and are now managers and supervisors."
But the past few years have not been without struggle. "When we opened in 2018, we were still battling and laying our roots down. Cannabis was still a new thing and very taboo," notes Sieben-Chubak. In September 2019, the SLGA opened up the market no longer restricting the number of cannabis stores in the city, and there are now over 30 stores in Saskatoon. "That was nerve-wracking because we're a local independent," she says.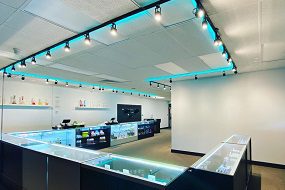 In December 2018, Living Skies opened up its second location on Millar Avenue, followed by a third and fourth location on Fairlight Drive and 8th Street East in 2021, purposely spread throughout the city. While Sieben-Chubak is proud of the expansion, it was also survival. "This was to save ourselves when all the corporate stores moved into town," she says. "We didn't want to be swallowed up."
COVID-19 has added a whole other element to running a growing business. Cannabis retail stores were declared an essential service by the province, allowing Living Skies to remain open throughout the pandemic. Sieben-Chubak was also able to design her new stores in a COVID-safe way.
The vaccine mandate has been challenging to navigate and hurt business, but Living Skies has done its best and still has options for people who cannot provide vaccine status. During these difficult moments, Sieben-Chubak reminds herself to "pivot and keep pushing ahead. Remember why you're doing this and how far you've come."
Besides being one of the youngest in the industry, Sieben-Chubak is also a woman in a male-dominated space. "It is not the norm, especially in Saskatchewan," she says. "But I like being a woman in the cannabis industry." It can be isolating, but Sieben-Chubak has found community with her staff. She notes, "We stay in our own lane. We worry about ourselves and make sure the stores are running the best we can."
She has also found it with The Saskatchewan Weed Pool Co-operative, which is comprised of 16 independent retailers who operate 25 stores in the province.
When self-doubt creeps in, Sieben-Chubak reminds herself: "I have been in the industry as long as everyone else has. I do have a say in what's going on and I have valuable input." Her Dad, a self-made entrepreneur has also been a great source of support and insight.
Sieben-Chubak would love to see more women in the cannabis industry. She encourages those who are passionate about cannabis to go for it. "You need to be confident in yourself," she advises. "Just because you're a woman or you're young doesn't mean you don't deserve to be in the industry. It is going to continue to be a male-dominated industry until we have more women working in it."
Sieben-Chubak says it is equally important to raise up Black, Indigenous, and People of Colour (BIPOC) in the industry. At Living Skies, three of the four stores are women-led and BIPOC are in positions of leadership.
When asked about what's next, one thing is clear: Sieben-Chubak is in love with this industry and there is so much more to come.
Photos courtesy of Living Skies Cannabis