Go Green: GreenStep EcoFund
By:
The GreenStep EcoFund program creates a budget for your property to invest in projects that cut energy, water, and waste costs; reduce your carbon footprint; increase your property value; and grow your bottom line—all at no cost.
"We are so excited to be EcoFund Verified. We like to be industry leaders in sustainability and with this program we can achieve our sustainability goals faster."
-Best Western Plus Kelowna Hotel & Suites
Use of the EcoFund Verified logo, custom annual reports, and project spotlights help you communicate your positive environmental impacts, win RFPs and awards, and boost your green certification score.
How to Become EcoFund Verified
There is no cost to join the program. You add a small eco fee to your existing rates and GreenStep takes a percentage to manage the program and provide energy management and support services. Their team will offer guidance on program set up and staff training
They will assign an Energy Manager to complete an initial energy assessment, identify projects, access available rebates, source quotes, and provide project implementation support. They will also track consumption, costs, and carbon savings.
GreenStep provides marketing templates, project spotlights, and the EcoFund Verified logo for your use onsite and on your website to help you communicate your achievements and participation in the program.
EcoFund Verified Opportunity Summary
The opportunity summary demonstrates the impact of rising energy prices on the business in a do-nothing scenario vs. the impact of joining EcoFund Verified and cutting energy consumption by an average of 5% per year with projects paid for from your EcoFund.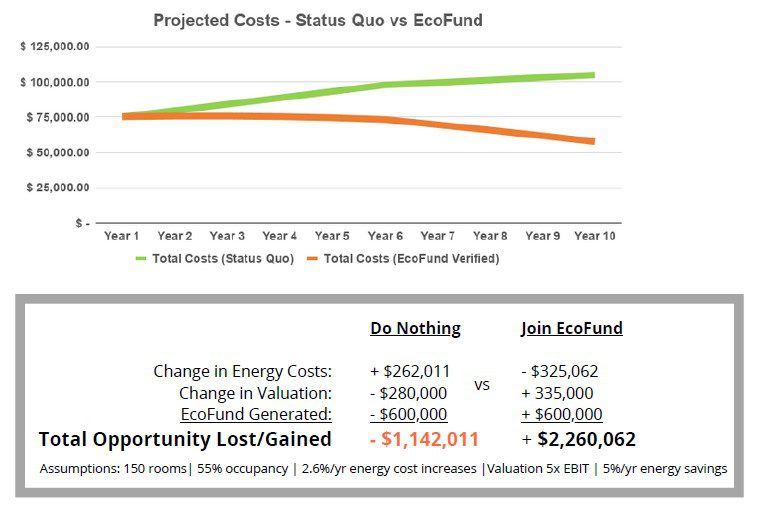 Contact GreenStep for a complimentary, no obligation opportunity analysis of your property. GreenStep can be reached at 1-800-469-7830 or info@greenstep.ca.