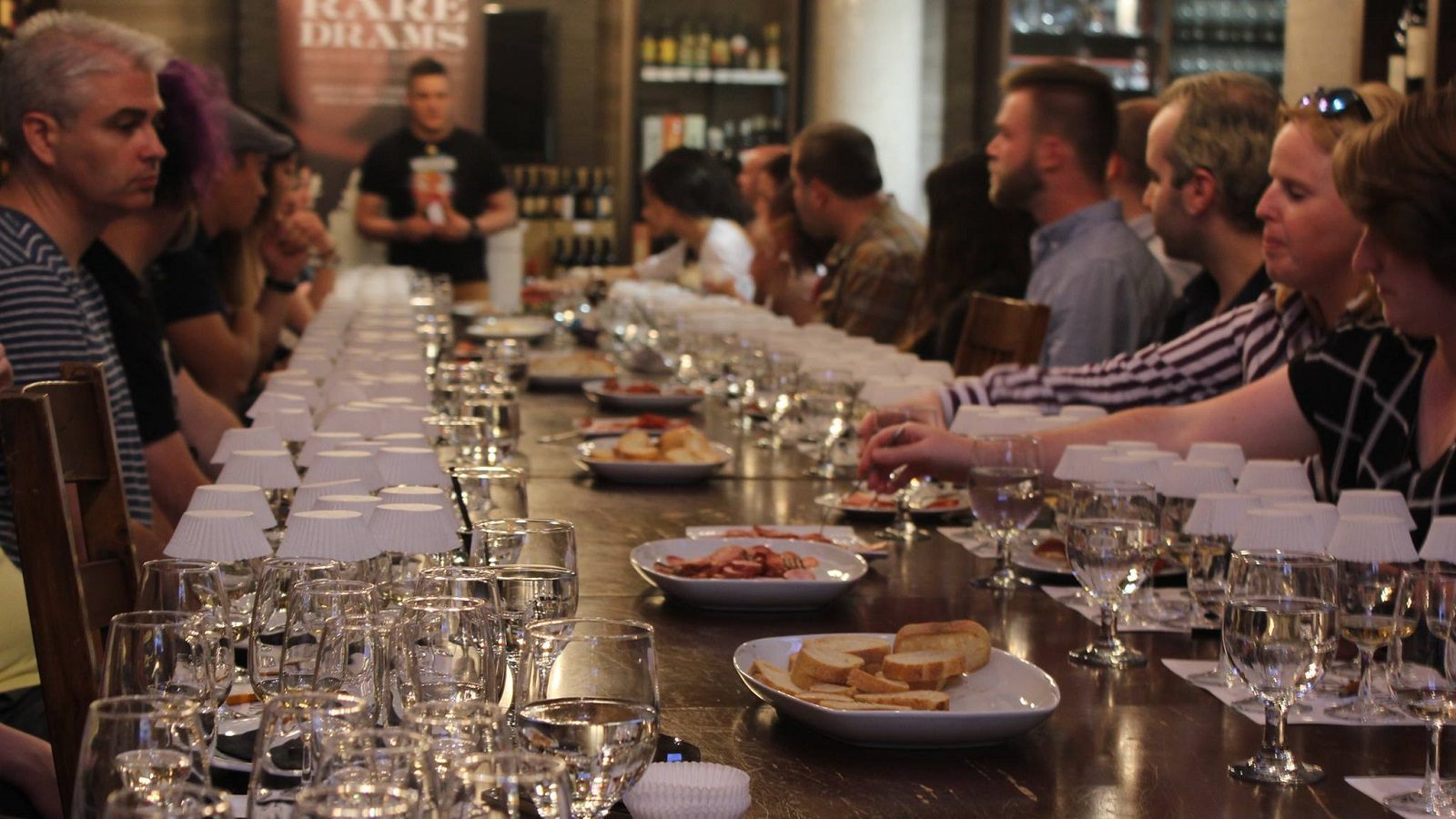 How To Hold an Event, Now That We Can
By: Joanne Sasvari
And what's in it for you — and everyone else?
Events are back! Now that we can gather once again after two long years, customers are likely looking to your pub for a place to celebrate or your liquor store for a product to celebrate with. But whether you hold an event in your own venue or sponsor one in someone else's, your hosting skills are likely a little rusty. Here's what you need to know before you say "yes."
Why Hold an Event…
An event could be as simple as a drink special or fancy enough to require costumes, themed décor, and live entertainment. But before you order the festive beer mats and fling open the doors, you need to know just why you're holding the shindig and what you hope to get out of it.
"We do it because we like the educational component," says Darryl Lamb, the brand manager at Vancouver's Legacy Liquor, which for years pre-COVID held special tastings, dinners, and other events around a harvest table in their store. "One of the reasons we built the harvest table is because a better-educated customer base spends more money. There's a lot of value to training your customer base to widen their horizons." They believe in it so much, in fact, they are opening an educational event space next door called Taste of Legacy.
Getting your current customers to spend more money is one good reason to hold an event; attracting new ones is another.
"Obviously from an exposure and marketing perspective, it's a prime opportunity to showcase what you do and expose your restaurant to an audience who may not know you," says Madone Pelan, the general manager at the Oak Bay Beach Hotel, which is home to Victoria's much-loved Snug Pub.
But, she adds, "It's important not just from a marketing standpoint. It's great for the team to be able to go out and do these things. It's almost a perk or a benefit."
Holding or supporting events is a good way to drive traffic on slower days. It also gives your pub or store an opportunity to stand out in a competitive industry. And it's a good way to give back to your community or support a good cause, like the pubs that have been donating the proceeds from Russian liquor to the Red Cross appeal for Ukraine.
Legacy supports sports and arts charities for a couple of reasons. "Good corporate citizenry has always been part of our company philosophy," Lamb explains. And he points out, charity events attract well-heeled donors who have money to spend at your business.
. . . And Why Not
But not every event is a good idea.
Legacy Liquor is organizing its first event on-site liquor stores in three years this spring, but Lamb cautions that while these can be lucrative, they can also be risky.
"You have to be really smart about how much you spend."
"Do you have the capital to invest in all that product and risk it not selling?" he asks. Operating an on-site store means buying all the stock and, if it doesn't sell, paying to haul it away and storing it afterward. "You've got to do the math on it. You have to be really smart about how much you spend on a show because they will bankrupt you."
Holding an event in your own venue also means taking time, space, and staff away from your core business, which is especially challenging during the current staffing shortage.
That's why, although the Oak Bay Beach Hotel supports events of all sorts, they rarely hold them in the pub. "Our pub is just a rock-solid neighbourhood busy pub," Pelan says. "We looked at putting events in the Snug, but at the end of the day, the Snug does what it does best."
Instead, they take part in festivals like Brewery and the Beast, where they can showcase their best services. Even then, the timing has to be right. As hotel occupancy rises, now just isn't the right time. "We just can't spare the bodies," she explains. "We want to be able to support these events, but we had to make some decisions around the timing of them because of staffing. We don't want to risk not being able to execute it well."
How To Hold a Great Event
Let's say the timing is right and you want to hold a party, or support someone who does.
The team at TouchBistro, a restaurant management system, offers suggestions for events that will bring business into your venue. These include a trivia night, viewing party for the big game, meetup for a local group, a charity night, open microphone nights for musicians or stand-up comics, or even a whisky tasting or bartender demonstration.
Meanwhile, Evergreen HQ, a tech company providing solutions for bars, offers tips on how to make your event a success. First of all, pick the kind of holiday or theme that reflects the personality of your business. If you're not all about hearts and flowers, don't hold a romantic Valentine's Day party, for instance.
"Create a marketing plan and make sure your team is well-informed about the event."
Make sure to get the word out properly. Create a marketing plan and make sure your team is well-informed about the event. Post flyers and posters, order staff apparel and tent cards, and use all the tools at your disposal, including social media and software that alerts your customers with special offers and invites.
Plan carefully. A poorly planned party is worse than no party at all. Determine your goals and set your budget. Decide what the event will look like, how much glassware and ice you will need, and if you'll require specialty items. Choose your menu and drinks list and stock up on inventory.
And don't forget to review liquor laws regarding events and get the necessary insurance in place and Special Event Permit (SEP), if required.
Lamb also advises that if you are supporting a charity, do your due diligence and make the sure the money raised actually goes to the cause and not just to overhead. Above all, make sure you are getting out of the event what you need to—and that everyone else is as well.
"There's got to be value for our brand," he says, "but there's also got to be value for the public."