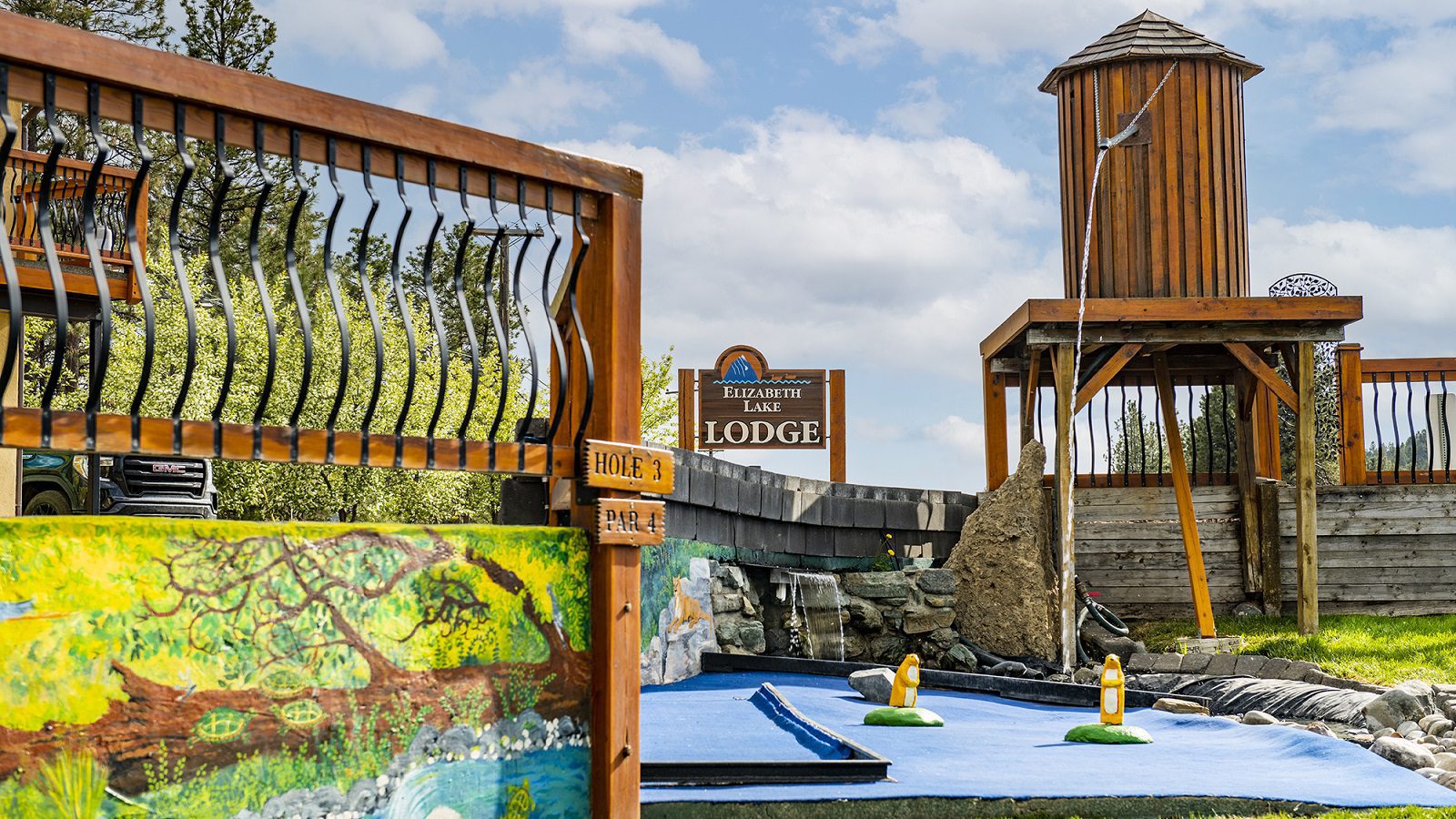 Kootenay Cool
By: Joanne Sasvari
BC's adventure playground is also home to a growing number of charming boutique properties.
Tucked in BC's southwestern corner, the Kootenays are a spectacularly beautiful region of snowy peaks, cascading waterfalls, steamy hot springs, and small towns with vibrant arts and culture scenes. This is a vast, mountainous outdoor playground, but historically, accommodation here has been fairly traditional. That's changing quickly, as these three properties show.
Elizabeth Lake Lodge, Cranbrook
George Freitag, who owns Elizabeth Lake Lodge with his wife Rachel, grew up in Cranbrook, but left for a career in hospitality, over time opening nearly two dozen four- and five-star properties, mostly for Ritz-Carlton. "We always wanted to open our own place," he says. "And even though we looked around the province to build our dream, we ended up back home on the edge of the wetland."
In 2004, the Freitags bought an old motel on the edge of the 250-acre Elizabeth Lake Bird Sanctuary, and since then have transformed it into an alpine-style boutique hotel with 28 units, most of them suites with kitchens, and all with views of the wetlands.
"The lodge has had a Top 5 standing with TripAdvisor for the last 12 years."
"It's quite a jewel that we have next door," he says.
The bulk of their clientele works for Interior Health or government, keeping the rooms full Mondays through Thursdays. "Our clientele tends to be more single professionals who want a kitchen, but don't use it," Freitag says with a laugh. They're drawn to the bespoke Hypnos beds, luxuriously heated floors and immaculate rooms, as well as a par 70 mini-golf course said to be the toughest in BC, and the property's seven murals.
All this attention to detail has earned the lodge a Top 5 standing with TripAdvisor for the last 12 years in a row, and Freitag is determined to continue adding as many five-diamond-quality touches as he can. "It really seems to work for us," he says.
Halcyon Hot Springs Resort, Nakusp
The Kootenays are riddled with healing hot springs ranging from undeveloped Lussier to family-friendly Ainsworth to the "Great Medicine Water" of Halcyon Hot Springs Resort. "We have fantastic hot springs. What I believe is there is a place for everybody. And where Halcyon is going is quality, not quantity," says the resort's general manager, Sandra Gregory.
"We need to slow down. We need to breathe. We need to take a walk in nature."
She joined Halcyon with a mandate to develop the property into a luxury wellness retreat. "There's never 100 people in the hot springs and that's not something we're ever going back to," Gregory says. "Wellness is a priority. We need to slow down. We need to breathe. We need to take a walk in nature. And Halcyon has all of it."
The property features only 36 self-contained units across 30 sprawling acres, ranging from rustic chalets that can sleep six to well-appointed modern cabins perfect for couples. "That's what made Halcyon special during COVID. It's very small in comparison to the size of the resort itself," Gregory says.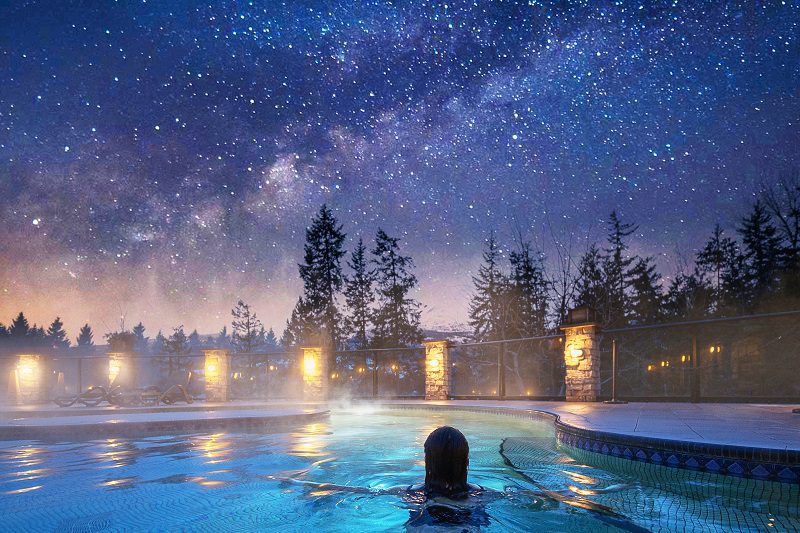 They are currently building a new spa and investing in their culinary program, dramatically expanding their wine list and building a geothermal greenhouse for herbs and vegetables. Their goal is to build a destination with the warmth of the Kootenays, but the level of service you'd expect to find in the city.
"There are significant, significant changes," Gregory says. "When people come here, whether it is a special occasion or not, it feels like it is."
The Explorers Society Hotel, Revelstoke
When Stephen Jenkins first came across the 110-year-old building that would become The Explorers Society Hotel, it was a museum and dentist office. Before that, it had been a night club and a barber shop, and was originally built as a tobacco shop and apartments by five-time Revelstoke mayor Hector McKinnon.
"People stop by to tell me stories about it," says Jenkins, a former Seattleite who opened his nine-room boutique hotel in 2017, just half a block from Grizzly Bear Plaza in downtown Revelstoke.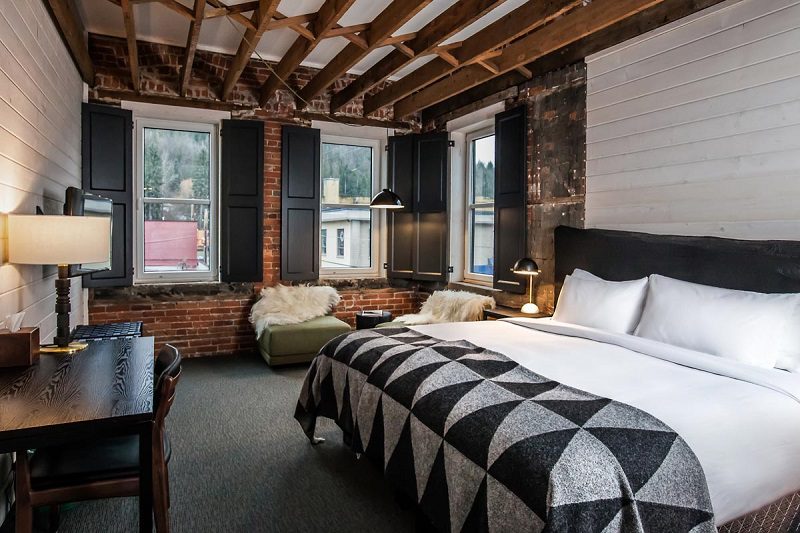 He describes it as "Scandinavian minimal on top of Victorian heritage." Although he's carefully preserved the vintage exterior, the guest rooms are fully contemporary with all the features modern visitors expect. "It was a full gut and then we added a floor to the top of the building that's a guest lounge called the roof lounge," he says. There is also a fine-dining restaurant on the main floor called Quartermaster Eatery.
He knows what draws visitors to Revelstoke because he was one himself, a skier smitten with a hill that has the most vertical in North America and a town that is charmingly low-key. "I say to people that this type of town doesn't exist in the US anymore," he says. "We're a hub for the community. People come back time after time. And we're building a society over time of likeminded people."