Location Wars: Battle For the Best
By: Sean Tarry
On October 18, 2018, the Cannabis Act took effect in Canada, prompting the opening of more than 100 cannabis stores across the country. The single-day surge set an early tone for the industry. And now, just a little more than four years later, the country's cannabis industry continues to make gains, represented most significantly by ever-increasing sales and a still broadening base of clientele. As a result of these positive signs, cannabis stores continue to open at an alarming rate, nearly saturating some urban markets, resulting in intensifying competition for the next big cannabis retail location.
According to Josh Harris, Senior Sales Representative at Collier's, however, there are a number of things that would-be store operators need to consider before rushing into selecting a location for their businesses.
"Do your homework."
"For anyone looking to open a cannabis store in Canada, they've really got to do their homework before making any decisions," he says. "Each province, for instance, has different requirements that need to be met, including ensuring that they're at least 150 metres away from the nearest school, as well as retail operator licensing that must be obtained. And then there are some of the more tangible considerations like foot and vehicle traffic flow, proximity to transit and other amenities, and access to parking. These considerations are obviously weighed accordingly in different markets, with urban centres more concerned about foot traffic and suburban markets placing a greater emphasis on parking. In the end, however, the objective for both is to provide the customer with an experience that's easy and convenient."
Growth and Expansion
One retailer that can identify with the opportunities and challenges inherent in both markets is Relm Cannabis Co. The first to open a cannabis retail establishment in Burlington, Ontario, the company now operates four locations in total, with a store in Hamilton and two in Toronto. The brand was one of the early movers as part of the hectic initial deluge of cannabis store openings. It's enjoyed some incredible success as a result, with plans for further growth and the opening of a fifth store, its second in the city of Hamilton. It signifies an ambitious move within a market that continues to attract more and more competitors. It's also one, says Brian Pearl, Operations Manager at Relm Cannabis Co., that's being driven and supported by the adept strategy and vision of the company.
"We're always paying attention to different market factors in an effort to identify opportunities in regions that have not yet reached market saturation," he asserts. "Whether it's locally, provincially, or nationally, we're keeping a constant eye on the future and regions that we determine to be underserviced. If we identify a potential opportunity, then we'll take a closer look at age and population demographics—and, we don't just look at current demographics. We want to know what the area around a potential location is going to look like two to three years from now. Are there plans for the building of new nearby condominiums? How is the area going to develop over the next few years? Considering these factors will help determine where the traffic will be coming from and how much of it to expect."
Thoughtful Approach
In addition to looking for opportunities in underserviced markets, Pearl says that the company is always closely monitoring municipalities that have yet to open up to cannabis retailers, readying itself by developing an understanding of certain markets before opportunities are even available. As part of its evaluation of current and future markets, he also suggests that the value of finding the right anchor tenant cannot be overstated. In addition, he says that in order to properly execute an opening or growth strategy, planning and budgeting are essential in guiding and directing a business toward new opportunities and success. It's part of Relm Cannabis Co.'s thoughtful approach to growth, an approach that Pearl believes is helping to further legitimize the cannabis industry and the work of its purveyors.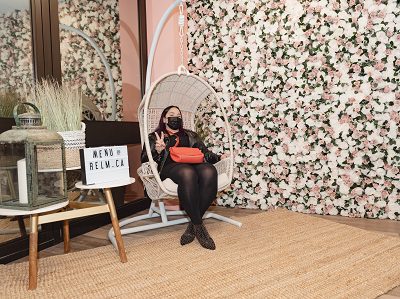 "There was certainly a stigma against cannabis retailers in the beginning," he recognizes. "There was a general nervousness around the type of clientele that they would bring to certain areas and regional plazas. Because of this, in combination with the fact that everyone was rushed to be first to market, landlords in some instances saw an opportunity and leveraged these factors to overcharge cannabis retailers for their spaces. I think that's going away, though. Relm offers its customers a knowledge-based, sophisticated buying experience. It's something that we're very proud of. I think it's something that our landlords have identified. And we aren't the only ones. With some education and a little bit of experience, an acceptance is developing, and people are realizing that cannabis represents a really valuable and impactful new market for many different people, including those who struggle with a range of different issues, from physical to mental health. It's a realization and understanding that is simply the result of a natural maturation of the industry."
The Importance of Information
It's a sentiment that's echoed by Colliers' Harris who, despite the ridiculous competitiveness of the market in most regions across the country currently, also agrees that there are still opportunities for cannabis retailers to find the underserved pockets and grow their store networks. As exciting as the venture might seem to some, however, he cautions that care must be taken when considering a new location, reiterating the fact that operators cannot enter into negotiations with prospective landlords without a clear view of the situation.
"Leverage all of the information that you can get."
"Cannabis retailers exploring growth opportunities have got to leverage all of the information that they can get their hands on. There's lots of it out there related to demographic and psychographic data, and there's also sales data that can sometimes be provided through a leasing agent. At any rate, whatever the information is, it's extremely important for cannabis retailers to gather and disseminate as much of it as they possibly can in order to arm themselves to the best effect, preventing them from going into leasing talks blind. Opening and operating a cannabis retail store is not an inexpensive endeavour, so in order to do it right, data that supports a real understanding of the business and market is critical."
Photos Courtesy of Relm Cannabis