On-Premise Consumption Trends
By: Ken Field
People are still hesitant to go out drinking at bars and restaurants in BC, according to consumption trends tracked by Ipsos. Ipsos has been tracking alcohol consumption trends for the past ten years through their Alcohol Consumption Tracker (ACT) program, which has been able to provide a view of drinking behaviour at bars and restaurants in BC before, during, and after the pandemic. According to this research, nearly 40% fewer people are going out drinking each month than prior to the pandemic. And while most of that aversion to drinking on-premise was instilled during the first waves of the pandemic, overall participation in 2021 was only marginally higher than in 2020.
This trend appears widespread across Canada. While there has been some impact of specific policies and geographies, no province appears to be exempt. For example, Quebec saw participation at bars and restaurants drop 50%, and Ontario saw a decline of 65%. BC's drop of 39% is better than the national average and only slightly worse than the 32% drop in Atlantic Canada.
Why are People Staying Home?
The initial cause of these declines is obvious. What is less clear is what continues to keep people away even as restrictions are lifted. For example, the biggest factors predicting whether people are avoiding bars and restaurants appears to be where they live and their ethnicity. People in large urban markets have reduced visiting at bars and restaurants far more than people in rural markets. And people who self-identify as Asian have reduced their visitation far more than other ethnic groups. In contrast, there is no apparent effect by age or gender, despite the well-established relationship between age and personal risk from COVID-19. The most likely explanation for this hesitancy to go to bars and restaurants is less associated with perceptions of safety and more to do with social permission to participate in these activities. Where you live and your ethnicity will have a notable impact on your social circle and whether your group of friends has deemed it safe to go back out for a drink.
Who is Going Out Drinking?
Some of this can be confirmed by looking at people who are still going out to drink. Among these people, the frequency of their bar and restaurant trips dropped just 15% from 3.8 occasions per month in 2019 to 3.2 occasions per month in 2021. It appears that if people feel they have permission to go out drinking again, they will continue to do so close to pre-pandemic levels. Unfortunately, from a volume perspective, this 15% drop in frequency only represents about one occasion every two months, so there is very little opportunity to make up for missing volume by focusing on current patrons. It will be necessary to convince people who are avoiding bars and restaurants to come out drinking again.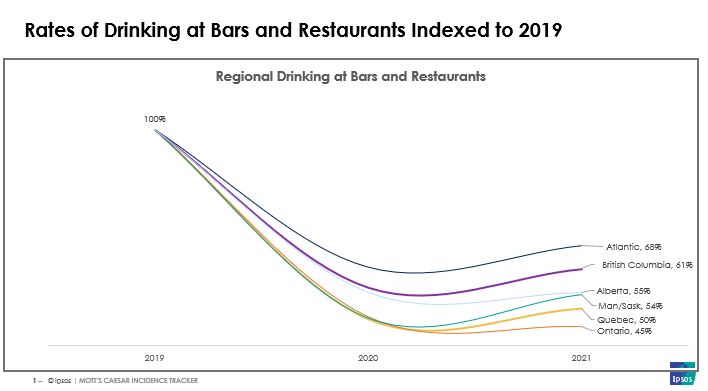 How Can You Draw People Back?
Considering opportunities to draw people back out to bars and restaurants, the most notable gap is likely nighttime events and large group celebrations: think weddings, birthdays, parties, etc. These occasions took the biggest hit during the pandemic and remain well below pre-pandemic levels. These are also the most social occasions and have the most opportunity to reach people who may still hesitate to return.
What Are People Drinking?
Correspondingly, beverage selections may need to focus more on wine and import beer brands. These segments lost a notable degree of share in BC on-trade establishments over the pandemic, likely due to their association with celebrations and special events. In contrast, beverages that have done better through the pandemic, such as mainstream and craft beer brands, or vodka and rum drinks served with a simple plus one soda mix, have likely benefited by the greater focus on low key occasions with smaller party sizes. It would be reasonable to expect beverage preferences to change if participation rates change notably and occasions are refocused on special events and celebrations.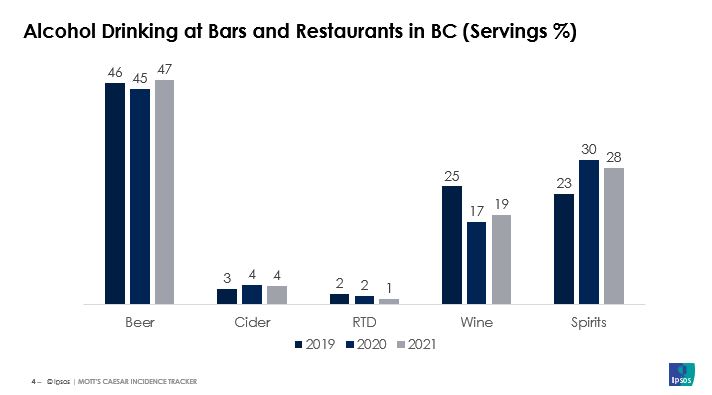 The key take-away for BC bar and restaurant owners is the ongoing challenge associated with getting people to come back out for a drink again. While perceptions of safety are likely still important, the bigger driver will be the social permission to return to pre-pandemic habits. This is where special occasions and big celebrations can play an important role. It will require active investment to win events and group bookings. There may be a role to play in reaching out to local offices and community groups to encourage booking special events that have been put on hiatus for the past couple of years. Only when going out has been renormalized socially can proprietors expect to see a return to pre-pandemic volumes.
Ken Field is a Director at Ipsos North America where he leads their alcohol consumption tracking research supporting some of North America's largest brands.