Cheers Liquor Stores
By: Danielle Leroux
Cheers Liquor Stores are home to Revelstoke's best selection of BC wines, craft ciders, and craft beer, priding themselves on the quality of their products and their staff.
The original Cheers Liquor Store is in downtown Revelstoke, next to the Regent Hotel, while the second Cheers Liquor Store Laforme is located just off the Trans Canada Highway in the Best Western Plus Revelstoke.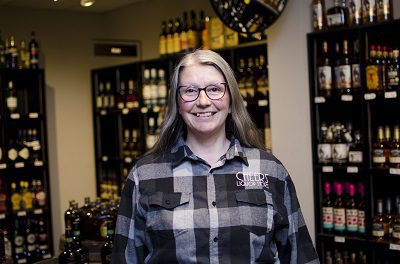 The first store opened in 1986. When asked about the Cheers name, long-time manager Tina Witt says, "One of the owners Fred Beruschi looked into it, and simply thought the name was cool." The second store opened in 2004 as Boulder Mountain Liquor Store and was renamed in 2017.
The two Cheers locations are quite different from each other, first in size. The Laforme store is 2000 square feet, while the downtown location is 3500 square feet. "The downtown store is busier, more local, and more downtown customers," says Witt. "It is right in the middle of town and easy to stop on your way out." The Laforme store has a different community, including hotel guests and highway traffic.
Each store has entirely different product selections. "Since the Laforme location is a smaller store, it is harder to carry everything everyone wants, so we carry a little bit of everything," says Witt. The downtown location is known for its 'huge focus' on local products, carrying 350 BC wines and 200 craft beers. "We try to seek out smaller BC wineries and have a nice selection of products that are harder to get and find. We keep the beer selection ever changing and fresh," adds Witt.
There are three other private liquor stores and one government liquor store in Revelstoke, a fair number of stores for a small town of 10,000 people. Though Witt says every store is quite different and has their own type of clientele.
"We have the biggest and best selection of local products in town, and this helps differentiate Cheers from other stores in the area. Our product selection is always changing and growing, and we keep up with the trends," adds Witt. For instance, in 2007, Cheers had half a cooler full of craft beer. Today, there are seven coolers.
Cheers also stands out with its own delivery service, delivering to customers within Revelstoke from 11 to 11 every day. "Our online store has all of our products on it. It is live inventory and everything in our stores is accessible to a customer shopping online," explains Witt. Many customers used the delivery service during the pandemic and a significant portion of business comes from delivery.
Like most small businesses, the last two years have not been without their challenges. Most recently, the store was affected by supply chain issues and had to adjust their product selection, but things are now running more smoothly.
Staffing can be a challenge in a ski town, where people come and go, but Witt speaks warmly about her staff. "Almost all of the staff stayed with us for the full two years of the pandemic. It is a really solid group and a big family team." Staff move between the two stores, which helps alleviate staffing challenges.
Revelstoke is an active town, with young people and families drawn to the outdoors lifestyle and community feel. Cheers Liquor Stores are strong supporters of the community and believe in giving back. "Every year, we do the 12 days of giving during the holidays," says Witt. "We work with other businesses in town to donate to the food bank and give gift cards to Community Connections." Cheers also hosts regular in-store fundraisers, sponsors the local men's hockey team, and gets involved in community events.
"What makes them stand out: product selection and customer service."
When asked what's next for Cheers Liquor Stores, Witt is focused on what the business knows best and what makes them stand out: product selection and customer service. Witt does a lot of her own product research and works with reliable reps to help out. "I also talk to customers and am always open to the suggestions they have and to try things out," she says.
"Our stores have great customer service, and that is a big focus when training new staff. We help customers and want to make them feel welcome, creating a good atmosphere for everybody," she adds. Witt also looks forward to bringing tastings back, which used to be a regular Friday occurrence in the winter.
Ultimately, it's clear Witt and her team want to bring in as much product as they can and keep their customers happy.