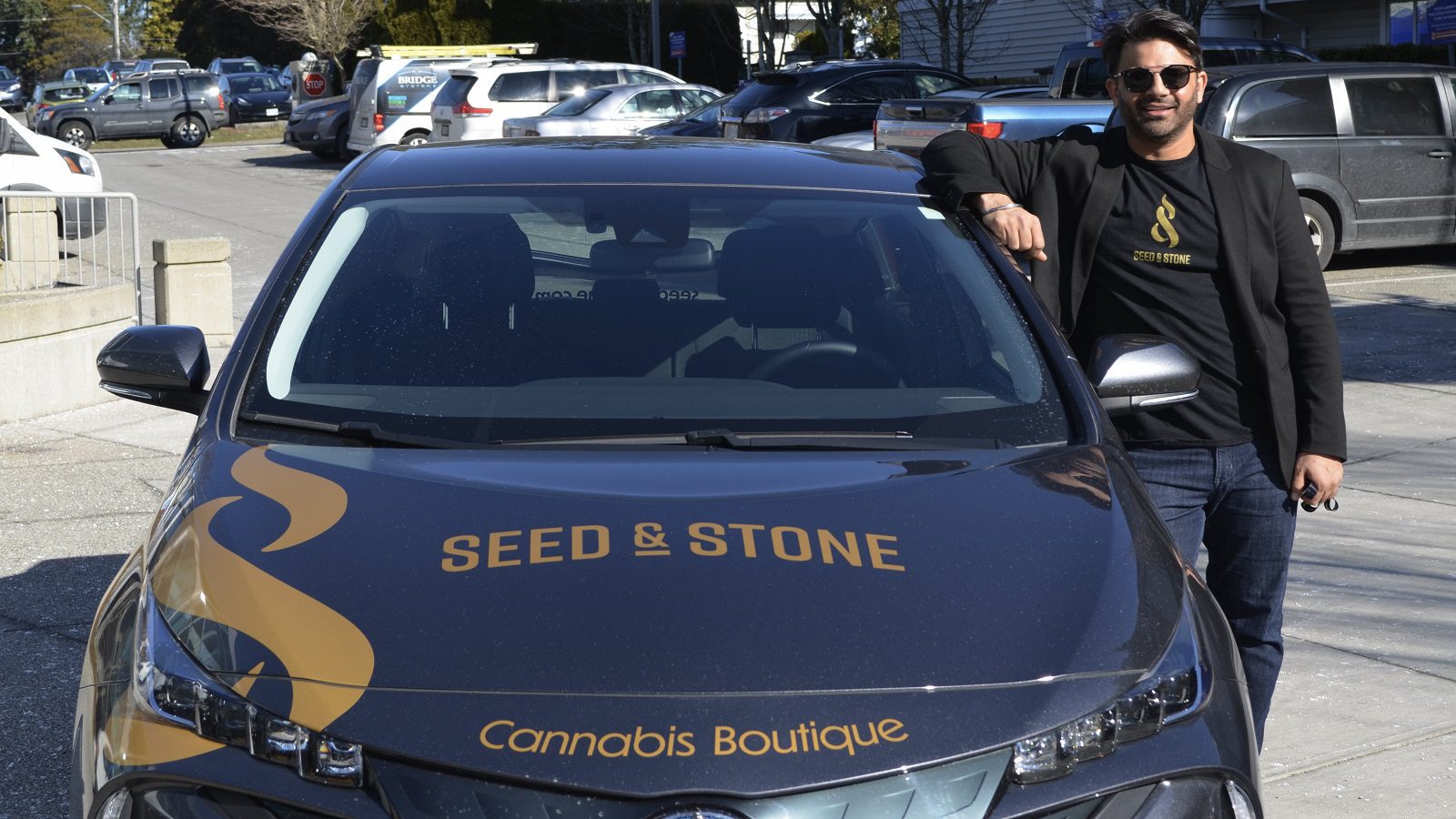 Cities Opting Out Create Cannabis Deserts
By: Randy Shore
The head office for Vikram Sachdeva's retail cannabis empire Seed and Stone is in Surrey, British Columbia, which is odd since Surrey does not allow retail cannabis stores.
Equally odd is Sachdeva's choice for his next retail store on Delta's Annacis Island, a small industrial enclave smack in the middle of the Fraser River. But is it really that odd? Highway 91 passes through the island placing the opted-out communities of Surrey, Richmond, and Burnaby just a few minutes drive away, an area that is home to about one million people who don't have easy access to legal cannabis. Another Seed and Stone storefront will soon be open in White Rock, immediately south of Surrey, BC's second largest city.
"We want to do within-the-hour delivery in Delta, Surrey, and Richmond," he says. "We've been doing it in Chilliwack and Victoria, and it has been very successful."
All five Dutch Love stores in the City of Vancouver offer free same-day home delivery on orders over $30, and their airport district store is just minutes from Richmond, according to Chief Growth Officer Harrison Stoker.
"While online ordering for pickup and delivery is a relatively small proportion of our sales mix, it's a larger portion of our revenue," he says. "A typical in-store sale is in the $30 to $40 range, an online order is $65 to $75."
Even so, turning a profit is a challenge because the rules in BC and Ontario require that delivery is completed by a store employee, forcing retailers into the delivery business rather than farming that function out to Uber or DoorDash, as is the case with liquor.
"But we are always on the hunt for new customers," says Stoker. "So, we think about home delivery, not only as a function of convenience for our current customers, but also an opportunity to find some new customers and convince them that the legal recreational market is great, accessible, convenient and safe."
With a hard cap of eight retail licenses per company, BC retailers see plenty of opportunity in Ontario, where the cap is 75.
Sachdeva plans to bring his Seed and Stone delivery concept to Brampton, Ontario, which is nestled among the opted-out communities of Mississauga, Vaughan, and Oakville. Add in similarly opted-out Toronto suburbs Pickering, Vaughan, and Markham and you have two million people living in cannabis deserts in the Greater Toronto Area alone.
Municipalities Missing out on Revenue
About 66 Ontario communities have opted out of legal cannabis retail, foregoing their share of millions of dollars in support from the province.
The Ontario Cannabis Legalization Implementation Fund has distributed $44 million to municipalities to cover the implementation costs of legal cannabis, according to Scott Blodgett, a spokesman for the Ontario Ministry of Finance. While communities that opted out of cannabis retail did receive three payments of at least $5000 each, municipalities that opted in scooped up the rest.
"Toronto has received $8.2 million in provincial funds since legalization."
Toronto, with a population roughly three times that of Mississauga, has received $8.2 million in provincial funds since legalization, for licensing, police costs, education, training, and enforcement against "illegal cannabis storefronts," according to a city spokesperson.
"Prior to legalization, there were more than 90 illegal cannabis storefronts," the city states. Today, there are fewer than 10.
Ottawa, Ontario, which allows cannabis retail received $3 million and London about $1.35 million, while opted-out Mississauga with twice the population got just $318,000, foregoing at least $2 million in the process.
Mississauga Mayor Lobbying for Legal Stores
"What concerns me more than any lost money through the Ontario Cannabis Legalization Implementation Fund is that Mississauga continues to miss out on being part of a legitimate and growing industry that is creating jobs and helping grow the economy," says Mississauga Mayor Bonnie Crombie.
"Mississauga continues to miss out on being part of a legitimate and growing industry."
A recent report to Mississauga Council estimated licensed cannabis retail would generate $74 million in sales annually.
Councillors, the majority of whom have twice rejected cannabis retail, voiced concerns that the city would have no control over where stores could locate. But in doing so, the city has failed to displace illicit retailers. Crombie notes, "… [We] know, from a report Peel Police released last March, that illegal cannabis shops tend to also attract other illegal and often dangerous activity," which needlessly occupies police time and resources.
"The reality is that there is a demand for legal cannabis retailers in Mississauga. In fact, 70% of our residents are in favour of cannabis stores," says Crombie.
Ontario's share of the Federal Cannabis Excise Duty was $106 million in the 2020-21 fiscal year and is projected to top $185 million in the current fiscal year.
BC Not Sharing Revenue
Opted-out cities in BC have not lost out on any tax revenue, because the provincial government hasn't disbursed any of the $94.89 million in federal payments it has received since March 1, 2019. The BC Ministry of Finance says, "Ministry staff are undergoing exploratory discussions to better understand cost pressures UBCM (Union of BC Municipalities) members and First Nations may face with legalization."
"Cannabis revenue share continues to be a frustration for local governments in BC."
"Cannabis revenue share continues to be a frustration for local governments in BC," notes Vancouver Councillor and UBCM Director Pete Fry. "It was a policy priority as recently as 2019 and remains unresolved."
The City of Vancouver estimates cannabis retail licensing costs to be $275,600 in 2021, down from $537,000 in 2020 and $663,000 in 2019. While BC tries to cover its own costs related to legalization, the province has not yet entered into a revenue sharing agreement with municipalities.
Transitioning to Legal Markets
Consumers living in opted-out communities are "virtually impossible" to transition to the legal market, says Oakville-based David Clement, North American Affairs Manager for the Consumer Choice Center.
"Irritatingly, these communities that have opted out have essentially kept those consumers in the black market and I don't think anyone wins in a scenario like that," he says. "You are enriching organized crime, biker gangs, and people who engage in violent acts."
With $382 million in legal retail sales last December alone, licensed Canadian retailers are slowly displacing the illicit market, where legal retail is allowed to flourish. The illicit market is currently estimated at about 45% of all sales, with that number decreasing each year as more licensed stores open.
Opted-out cities are also missing out on jobs and the commercial value of successful small businesses. "I would say the bigger opportunity cost here is just general commerce in a city in the same way that a successful restaurant benefits all the businesses around it," says Clement.