Just Be Here – Indigenous Properties are Supporting Community
By: Joanne Sasvari
The day before we speak, Chris Tait spent three hours with some Klahoose Wilderness Resort guests watching a grizzly bear catch and eat about 20 salmon.
It's not the kind of experience you'd get at most hotels. Indeed, Tait emphasizes that the resort isn't a hotel at all. "It's more about everything else," says the tourism manager for the Klahoose Nation. "Imagine the rainforest, the big trees, the ocean, and it's calm. You can just be here and slow down your life."
It's also part of a bigger story about how Indigenous-owned and operated properties are changing the tourism landscape in BC.
"Indigenous peoples are purchasing legacy resort properties, employing and supporting the entire community."
"We've seen a lot more investment made by Indigenous Nations not just in BC, but across Canada. That was being incubated pre-COVID," says Keith Henry, CEO of the Indigenous Tourism Association of Canada. "We just see a lot more Indigenous communities across Canada who want more tourism infrastructure development."
Even a decade ago, it wasn't uncommon to see an exciting Indigenous-owned experience in a remote location, but there was no accommodation, food services, or other infrastructure to support it. That's changing. As owners of legacy resort properties retire or sell, Indigenous peoples are purchasing them and, in the process, employing and supporting the entire community.
For instance: the former Homfray Lodge in Desolation Sound, which reopened as Klahoose Wilderness Resort this June. "Klahoose is new this year, but there are a lot of new accommodation developments across the country," Henry says.
Skwachàys
Of course, not all Indigenous properties are in remote areas. Take Skwachàys Lodge in Vancouver's densely populated Downtown Eastside, which is operated by the Vancouver Native Housing Society (VNHS).
"In 2014 we converted the hotel from our healing lodge to a boutique Indigenous art hotel," says VHNS CEO Dave Eddy.
"Not all Indigenous properties are in remote areas."
With the help of provincial and federal grant money, they gutted the Victorian structure, keeping only the façade, and created a unique property with three floors of guest rooms, three floors of subsidized Indigenous artist accommodation, an art gallery, and workshop. Each of the 18 guest rooms is a one-of-a-kind work of art created by major hotel designers paired with Indigenous artists.
"The structure itself is iconically Indigenous focused," Eddy says. "At the top of the building above the Victorian façade you see the 40-foot totem pole and the stainless-steel longhouse." There are also ceremonial spaces, a smudge room, and sweat lodge, and the property is attached by a bridge to the society's 98-room social housing unit next door.
"It's really, I think, a beacon for Indigenous folks in the neighbourhood," Eddy says. "It's culturally and spiritually enticing to native folks who may not have had the best life experiences."
Haida House & Ocean House
Supporting the community is also at the heart of Haida House and Ocean House, two properties owned and operated by Haida Tourism on Haida Gwaii.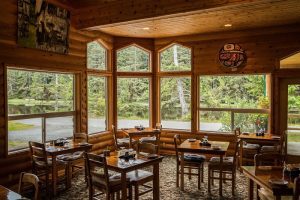 "We're stewards of this place, and everything we do is based on respect," says Kathy James, operations manager of Haida Tourism. "We work with the economic development arm of the Haida Nation. We're all about skills and development and building vocations."
Haida House sits on a 60-acre spit on the salmon-rich Tlell River, just a two-minute walk to the beach. It was built in 1989; the Haida Nation took it over in 2001 and re-opened it a year later as an all-inclusive culture, nature, and adventure resort. It features a main lodge with 10 guest rooms, dining and conference facilities, and 12 cabins decorated with beautiful Haida artwork.
Ocean House, meanwhile, is a more traditional property—a 24-room boutique lodge located on the shores of Masset Inlet.
Most importantly, the two properties are major local employers that also offer invaluable on-the-job skills training to a staff that is over 80% Haida. "We love to hire people who live here," James says. "We're providing authentic cultural experiences and they are the best ambassadors of that."
Klahoose Wilderness Resort
It's a similar story at Klahoose Wilderness Resort. The property was originally built in 2009 as a rustic getaway for locals. In 2017, the Klahoose First Nation took over management and changed it to an all-inclusive eco resort. Then COVID hit, the management agreement lapsed, and a new opportunity presented itself.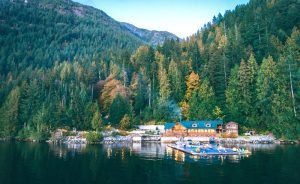 In November 2020 the Klahoose First Nation bought the lodge and re-opened it in June 2021 as an all-inclusive Indigenous experience open yearly from May to October. "It shows a lot of vision on their part," says Tait. (The Nation also recently bought the Gorge Harbour Marina Resort on Cortes Island.)
The property features three family-friendly cabins and four lodge rooms, all with ocean views, Coast Salish throws on the beds, and fragrant cedar construction. Although it is remote and off the grid, it is also comfortable, with good food, luxurious accommodation, generator-powered electricity, hot showers, and even WiFi.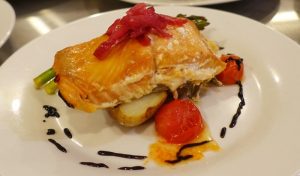 Most importantly, all the guides and most of the staff are Indigenous and share their culture through singing, dancing, and storytelling, even about residential school experiences. "People ask," Tait says simply.
He adds: "It's all accessible. It's very relaxed, it's authentic, it's immersive. It's pretty special and I don't just say that because I work here."