Wine Industry Trends
By: BC Liquor Distribution Branch
In the last LDB Update we explored the growth of refreshment beverages and hard seltzers that are in high demand in the summer and maintain popularity throughout the year.
As the seasons change, so do consumer drink preferences. As days get shorter and the temperatures drop, consumers are more inclined to get cozy with a glass of Cabernet. In fact, wine demand grows roughly 20% during the autumn and winter months.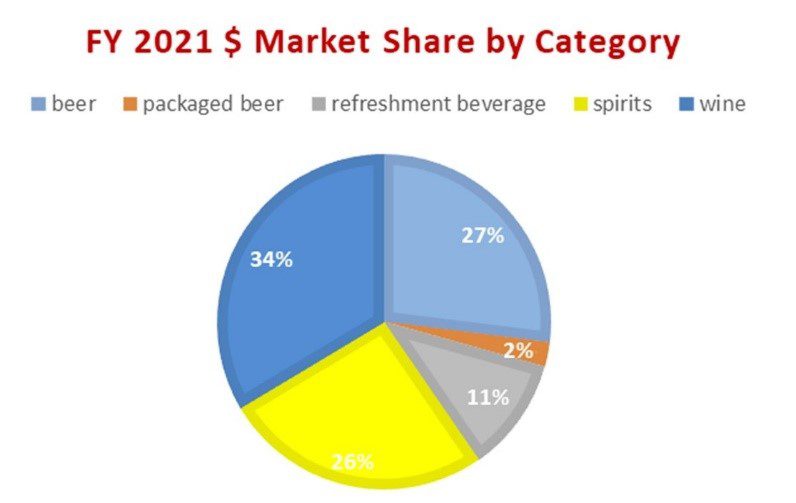 In BC, wine lovers can find their favourite glass, bottle, can, or box at restaurants, bars, liquor stores, independent wine stores, grocery stores, and local wineries throughout the province.
In line with the popularity of this product category, which maintains its title as market share leader with 34% market share in 2020, the BC wine industry also continues to grow and capture the interest of consumers. Provincial sales for domestic wine have continued to trend upwards and now maintain approximately half of the market compared to wines from any other region around the world.
These trends are captured in the LDB Liquor Market Review, which provides provincial sales through the LDB Liquor Wholesale channel for beer, refreshment beverages, spirits, and wine. Sales are provided in net dollar value and litres. Net dollar value is based on the price paid by the customer and excludes any applicable taxes. For each reporting period, the Liquor Market Review provides summarized sales data for the current quarter and previous four quarters.
Popular Countries
After BC, wines from the United States, Italy, and France as well as Australia and New Zealand continue to lead sales in net dollars in the province this year, aligned to the overall trend for the past few years. However, when looking at wine sales by volume in our province during the same period, there is a slight difference in the amount of wine flowing in to BC from different regions. While BC, the United States, and Italy are the top three leaders for wine sales in both volume and net dollars, it is Australia and Chile that currently round out the top five regions for wine sales in litres.
Red or White?
When it comes to the classic question of red or white, BC wine preferences change like the seasons. White wine sales are stronger in volume in the warmer months and red wine is favoured in the fall and winter months. This seasonal preference seems to be unique to BC wines as red wine from the United States, France, Italy, and Australia outperforms white wine sales in volume year-round.
Impacts frm COVID-19
Similar to other product categories, the wine category has been impacted by the COVID-19 pandemic as events were postponed and restaurants temporarily closed. Despite the impact of the pandemic, 750ml bottles maintained their leader position for top-selling wine or spirit SKUs, and demand for ready-to-drink products, spirits, and large format boxed wine increased as consumers looked for beverages to enjoy at home.
Supply Chain Issues
The pandemic also tested the global supply chain leading to delays for in-bound import products to the LDB distribution centres; however, LDB Wholesale Operations has taken a number of steps to mitigate the impact on our business and stakeholders. Customers can stay up-to-date on real-time inventory levels, delayed shipments, and temporary product stock outs by visiting the Product Information resource section of the LDB Wholesale website at wholesale.bcldb.com/supplier-stock-outs.
LDB Wholesale remains committed to keeping customers informed of temporary and seasonal impacts to the industry as well as market trends as part of our goal to provide excellent customer service. As we approach the busy winter holiday season, the Wholesale Customer Centre will be emailing customers any changes to delivery schedules and will be extending its weekday operating hours to meet your business needs. From all of us at LDB Wholesale, we wish you the very best for the holidays and New Year.